Each of the major Hawaiian Islands has a lei, treasured as its own.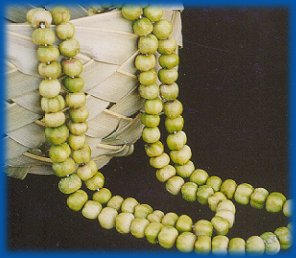 Kaua'i The mokihana lei represents the Island of Kaua'i. The fruit of the mokihana tree may be found seeking direct sunlight only in the wild and only in the tropical rainforests of the Island of Kaua'i and the Big Island. Its anise scented, leather fruit must be strung within a few hours of picking and often serves as a sachet.
Known as the "Garden Island", Kaua'i is often regarded as the most scenic of all the islands; it is smaller than the other major islands, but with the same physical features. The island is easily accessible by car and almost everything is within a two hour drive; it's a picture perfect spot for honeymooners and those wishing to escape a hectic lifestyle. Take time and visit the stunning Kalalalau Valley on the na Pali Coast with its awesome cliffs and Waimea Canyon.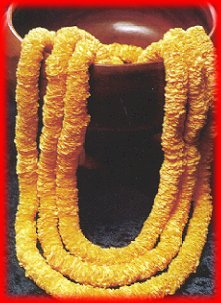 O'ahu The official lei of the Island of O'ahu is the fragrant ilima. It is composed of hundreds of flowers strung together so only the edges are seen. Each requires many, many hours of work. In ancient times, ilima leis were only worn by high chiefs. Today the lei is often given to public officials.
"The Gathering Place", O'ahu is said to be where "Aloha begins!". Discovered roughly a thousand years ago by Polynesian explorers from the Marquesas, O'ahu has become a melting pot for people from all over the world. Sugar and pineapple plantations were abundant and today many historical sights await the mainland tourist: Waikiki Beach, 'Iolani Palace, Hawai'i Maritime Museum, Bishop Museum, Polynesian Cultural Center, and of course, Pearl Harbor/Arizona Memorial. The Battleship Missouri and the Punchbowl are but a few of the many possibilities. Festivals and fairs abound as well, and there are many eco-tourist and sports activities including golf and tennis to try.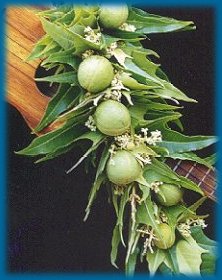 Moloka'i Any plant the ancient voyaging Polynesians chose to bring had to serve many useful purposes. Among the kuku tree's many uses, its bark, flowers, and nuts are all used medicinally. Also, its white flowers, fruit, and leaves are strung as the kukui lei, which represents Moloka'i, whose symbolic color is a silvery green.
Most of the people who live here are of native Hawaiian ancestry. moloka'i has been called "The Friendly Isle", and is also known as the "Most Hawaiian Isle". It is the least developed of the major Hawaiian islands. Three separate shield volcanoes make it an island of surprising geographical diversity.
Eastern Moloka'i receives ample rainfall, and its streams and waterfalls have cut deep valleys in the land. Western Moloka'i is much drier, and consists for the most part of rolling hills and plateaus. Along the northeast shore, the world's highest sea cliffs drop into the ocean, while the south shore generally has a plain edge with coral reef. As the least developed of the Hawaiian Islands, it has no supermarkets, no traffic signals, no elevators, and no buildings over three stories.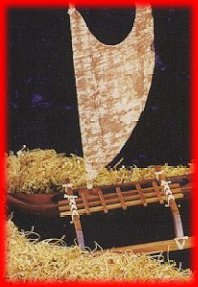 Lana'i "Kauna'oa kahakai" translates to "the beach orphan vine". It is an entwining vine having tiny white blossoms and may be found along roadsides and beaches, growing over plants and even up trees as it seeks direct sunlight. The strands are twisted, then twined over each other, forming kauna'oa, the official lei of the Island of Lana'i.
Lana'i is a dome with a single ribbed edge running across the middle of the island. Until a few years ago, the island was the world's largest working pineapple plantation. Two beautiful resorts await the discriminating traveler on this magnificent island. They are all inclusive and offer guests a truly superior accomodation with world class ammenities and spectacular undeveloped natural setting. It is a remarkable place to visit and a memorable place to return to again and again.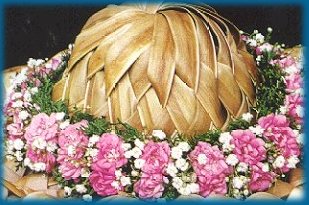 Mau'i Introduced in the early 1800's, this beautiful flower was soon called lokelani (heavenly rose) by the Hawaiians who were fascinated by its color and fragrance. The Territorial Legislature officially established the lokelani as the flower of Maui in 1923. It is greatly prized and often worn in haku leis (a method of lei making which involves intertwining flowers with greenery) for parades, special holidays, and honorary ceremonies.
Maui County is comprised of three islands-Maui, Moloka'i, and Lana'i. Maui, often called the "Valley Isle" is the second largest of the Hawaiian Islands,but almost everything is easily accessible by car, and the roadways are among the most scenic in Hawai'i-especially the Road to Hana!
Climb Mt. Haleakala (The House of the Sun) long before day break, and await the most breathtaking sunrise you may ever see anywhere. Or, relax and enjoy a bicycle ride down the mountainside, walk dozens of hiking trails, or visit dozens of historical points of interest. In winter, the national pasttime on the island is Whale Watching-either from shore or out on a boat where you can cry "Thar She Blows" and you see a great tail of a whale high above the waves!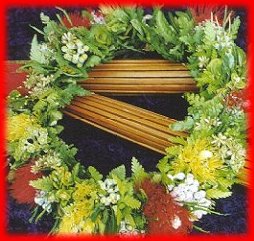 The Big Island Lehua blossoms grow on the native ohi'a, the first tree daring enough to sprout from a new lava field. The pom-pom stamens are sacred to the volcano goddess Pele and were used by the ancient Hawaiians in a potion to lessen the pain of childbirth. The red, salmon, pink, or yellow flowers are quite showy and energetically participate in the Big Island of Hawai'i's official lei.
By Hawaiian standards, the Big Island is HUGE. It's almost twice the size of all of the rest of the Hawaiian Islands combined and four times the size of Rhode Island on the mainland. And it has an active volcano as a major attraction which you can visit by car, tour bus, or see from above you as you take a helicopter tour of the island.
There are two major "sides" to the island: Kona, where you will find major resort accomodations, golf, horseback riding, tennis, and sport fishing; and Hilo, which includes Hawai'i Volcanoes National Park, Rainbow Falls, and Waipi'o Valley, the valley of kings.
Ni'ihau
The "Forbidden Isle"
Island Flower: Pupu - White pupu shells found along the shoreling of the rocky island are pierced and strung on cords to form this lei.
Kaho`olawe
The "Forbidden Isle"
Island Flower: Hinahina

Wear a lei, share a lei, give a lei.
Whether you are in Hawaii or elsewhere.
LEIS OF HAWAII
The Perfect Start To Your Hawaiian Holiday
Reservations: 1-808-732-7385
827 Paahana Street, Honolulu, Hawaii 96835
(808) 732-7385 or Fax (808) 732-7134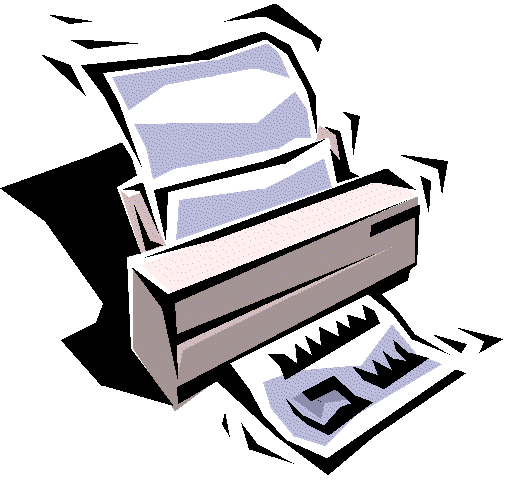 E-mail: leisofhawaii808@gmail.com
Visa or Master Card accepted through LEIS OF HAWAII

Web page publishing and graphic design by: LEIS OF HAWAII
Return to:
LEIS OF HAWAII or LEIS OF HAWAII Home Page
Wholesale 9 Leis Gift Pack | Wholesale 6 Orchid Gift Pack
Wholesale Hawaiian Leis | Wholesale Flower Leis | Wholesale Leis
Airport Lei Greeting | Hawaiian Silk Flower Leis
Lei Greeting Service | Fresh Flower Leis | Money Lei & Roses
Travel & Tours/Activities | Limousine Transfer | Polynesian Brown Tanning Oil
Hawaiian Silks Floral Accessories | Men's Or Ladies Raffia Skirt | Plastic Orchid Sprays
Feather Roses | South America Roses | Rose Buds Paves With Dew Drops | Rainbow Lei
Frank & Kaipo Productions | Advertise On The Internet | International Real Estate Investment Group
International Interior Design | Privately Arranged Security Service | Hawaiian Wedding
Clients Wedding Flowers | Mall Specials | The York Foundation | HNL 1997 Calendar
Private Collection | Clients receive Fresh Flower Leis | Family & F.I.T.'s Arrival | V.I.P's Arrival
Groups Arrivals | Hawaiian Christmas In Chicago | American Dental Association ADA '99
Grueninger Tours King Kamehameha Day Parade 2001
Northwest Airlines - Local 2000 Retirement Party
President Barack Obama - In Honolulu, Hawaii
President Bill Clinton - In Honolulu, Hawaii | President George Bush - In Honolulu, Hawaii
Toy Boys Hawaii | Universal Body Fitness | Hula Tours

Approximately

people are visiting this site.